School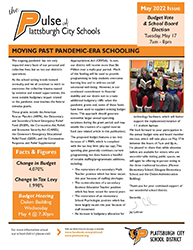 Budget Vote/Board Election:  May 17, 2022 – 7:00 a.m. – 8:00 p.m.
Click here to view the 2022-23 Budget Newsletter
2022-2023 Plattsburgh City School District Budget Notice
Board of Education Election – Order of Candidates
Go here for information on election districts.
Interested in running for School Board? Go here for  school board election policies.
Need a board petition?  Call the District Clerk at 518-957-6002.
Need an absentee ballot?  Download and complete the application for Absentee Ballot and submit to the District Clerk at 49 Broad Street, Plattsburgh, NY  12901.  If mailed, the application has to be received by the District Clerk no later than May 10th if the ballot is to be mailed, or the application can be received (in person) the day before the election, if the ballot is to be delivered (that day) personally to the voter.
Notice of Public Hearing, Budget Vote and Election
Budget Materials for Public Inspection
2022 PCSD Board Election – A Call For Candidates
Voter Registration Notice 2022
2021-22 School Budget Vote Results – May 19, 2021
2022-23 Budget Development Calendar
Date
Activity/Milestone
December 2, 2021
BOE receives 2020-2021 Budget Calendar
January 24, 2022
Executive Budget Proposal is anticipated to be received by this date
DWEIC considers new program proposals
February 3, 2022
Principals/Supervisors receive budget development materials
A portion of Administrative Council meeting will be devoted to budget planning
February 10, 2022
BOE receives draft 'rollover' budget (applies 20/21 staffing to 21/22 expense assumptions & Governor's revenue projections)
BOE approves resolution to publish legal notices (budget vote & election) BOE appoints Board of Registration
Initial BOE discussion of staffing and programs
New program proposals (DWEIC) presented (if applicable)
March 1, 2022
Submit information to calculate Tax Levy Limit on OSC website
March 10, 2022
BOE receives updated budget draft including BOCES costs BOE discussion of all budget items
March 24, 2022
BOE receives updated (final) budget draft. BOE may approve budget or delay approval until April 14, 2022
April 1, 2022
First of 4 legal notices to be published (between March 29 – April 2nd)
April 14, 2022
BOE approves final budget proposal (if not already approved on March 24th)
April 15, 2022
Property Tax Report Card to be filed with NYSED (can be, no later than April 22nd)
April 27, 2022
Deadline for submission of petitions for candidates of the Board of Education
April 27, 2022
Budget materials to be made available in all schools and on district website
May 3 – 17, 2022
Copies of budget materials must be available to City residents upon request
May 3, 2022
Deadline for voters to register
May 2, 2022
Deadline for distributing Military ballots
May 4, 2022
Budget hearing
May 6, 2022
Target date for Budget Newsletter mailing
May 11, 2022
Budget Notice mailed to voters (legally required)
May 17, 2022
Annual Election & Budget Vote (polls open 7a.m. – 8 p.m.)
June 21, 2022
Statewide Budget re-vote (if necessary)